Laser radiator/Heat sink and cooling fan used in high power laser head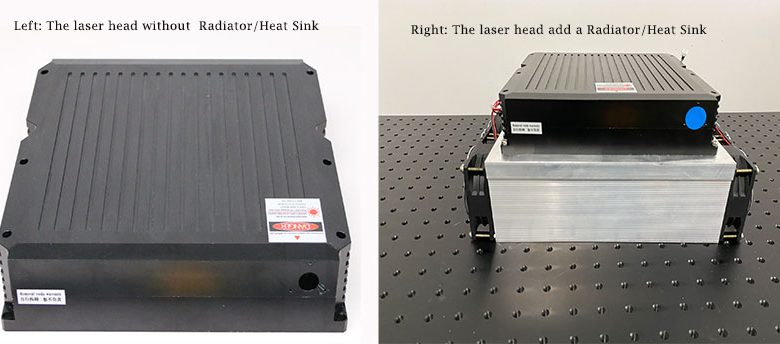 Laser radiator/Heat sink and cooling fan used in high power laser head
For high-power lasers, if the customer does not have a laser heat sink,
it is recommended that the customer choose our radiator.
If the high-power laser needs to work continuously for a long time, a heat sink is necessary;
For most lasers, the higher the power, the greater the heat;
If the heat dissipation is not timely, it will affect the service life of the laser, or directly interrupt the laser work, or even directly burn the laser chip;
Radiator assembly:
Our radiator includes aluminum heat sink and cooling fan.
1. Heat sink aluminum sheet;
2. Cooling fan, with power adapter;
3. Installation accessories: thermal conductive silicone glue and 4 fixing screws;
Radiator size:
Customizable, the default is to match the size of the laser head;
Radiator installation:
1. If the customer chooses a heat sink when purchasing the laser.
We installed the radiator directly on the laser head.
2. If the customer purchases the radiator separately, the customer needs to install it by himself
We will send the fixing screws and glue needed for installation.
The actual product pictures for reference: